What is Imprinted Concrete?
Imprinted Concrete is a highly innovative method of imprinting the surface of freshly poured ready mixed concrete to give the look of stone, cobbles, brick, slate or even timber decking. Concrete is a sustainable building material that has very little impact on the environment compared to other building materials. Sand, cement, aggregates and water are the main components of concrete, we add colour, texture and creativity to make it more aesthetically pleasing. Building with concrete makes sense for you and the future of the environment.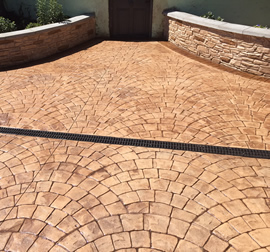 Imprinted Concrete is ideal for
There are many different patterns and design opportunities leading to a very imaginative makeover to your home or business.
Driveways
Patios
Paths
Steps
Conservatory flooring
Industrial flooring
Low Maintenance, Durable & long lasting
Our driveways, paths and patios are durable, unique and virtually maintenance free. All that it takes to maintain that beautiful look of decorative concrete is the very low cost application of another coat of sealer approximately once every four to five years.

The benefits are that Imprinted Concrete is resistant to mold, dust and other allergens so you can provide a safe and healthy environment for your family. It is also stain resistant to engine oil, diesel stains and other mechanical leaks.

With lots of different designs and colour options available, you can create a driveway that is truly original to you, leading to a very imaginative makeover to your home or business.
Affordable Price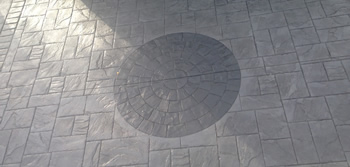 We all have to work to a budget of some description, however high or low it might be, and the great thing about Imprinted Concrete is that it is friendly on the wallet and you don't have to sacrifice the stylish appearance of more traditional paving methods.